Addy is a CPU Mii.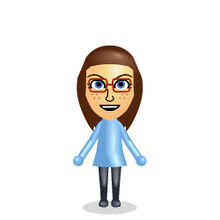 Wii Sports
In Tennis she plays with Cathy, and her level is 2700.
In Baseball, her level is 1850 and has herself, Zelda, Akira 2, Nate, Albert, Nic, Cathy, Nellie, and Juhon.
In Boxing her level is 872.
Wii Sports Resort
In Basketball, her level is 1873 and plays with Cal and Cathy.
In Swordplay Duel & Speed Slice her level is 2398. She is the boss of level 23 in Swordplay Showdown.
In Table Tennis her level is 2773.
Trivia