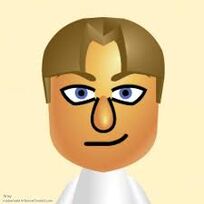 Albert is a CPU Mii.
Wii Sports Edit
Edit
His level in Tennis is 1895 and plays with Nellie, Elisa, Sarah, or Fatso. His level in Baseball is 1500 and is the regular champion and plays with himself, Sakura, Nick, Miyu, Rita, Nellie, Misy, Pierre, and Takumi. His level in Boxing is 123.
Wii Sports Resort
Edit
His level in Duel & Speed Slice is 1131
In Basketball, his level is 12635 and plays with Fatso and Saki.
In Table Tennis his level is 1212.
Tennis: 1895
Baseball: 1500
Boxing: 123
Swordplay: 1131
Basketball: 12633
Table Tennis: 1212
He looks like Greg.