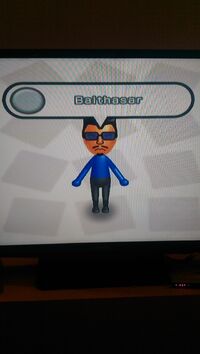 Balthasar is a CPU Mii in Wii Sports, created by Teh Sweggurboi. He is the younger brother of Saburo. The two brothers are fierce rivals and they try to beat each other in every sport. This results in great clashes between these two competitors, because in most sports they are almost equally good. Balthasar is often compared with Cristiano Ronaldo, not only because he is the ideal sportsman, also because he is quite arrogant. Balthasar is good at almost every sport, but the problem is that he knows this as well. He likes himself more than anybody else, but he has achieved much already in his sports career, and he can be considered as one of the best athletes ever. In more than half of the sports he practices, he is a Pro. He has strength, speed, technique, and endurance. This all makes him good at all kind of sports: from Shooting, Tennis, Baseball and 400 Meter Hurdles to Boxing and Hammer Throw. He is also one of the three best racers in Mario Kart Wii, for example, and his favorite vehicle is the Wario Bike.
Wii Sports
Balthasar is the Tennis champion with a level of 2006, so he's even better than his brother Saburo. It is just incredible to see how extremely fast he moves across the tennis court and how perfect his swings are: they are well-placed and have so much power that you must play a magnificent game to beat Balthasar in Tennis. His powerful services, effect balls, trick balls, topspin balls and above all his variety of swings are his weapons to beat almost every opponent with ease. He plays quite often together with Saburo, Frits, Geert, Tatsuaki and Tyrone. In Baseball, he is also Pro with a level of 1998 and he is in the Wii Sports champions' team, along with, again, his brother Saburo, and seven others. He does everything to become the star of that team and to eliminate his opponents. He throws treacherous balls, so that his opponents can't hit the ball well, and he is good at catching and batting as well. He holds the Wii Sports record for most home runs ever. He isn't Pro at Bowling, but he is close with a level of 963. The question remains if he can ever make it up there. Golf is his worst sport from Wii Sports. He doesn't like it very much, because he prefers sports with more action. In the boxing ring he impresses his opponents with his muscular body, powerful punches and with his skill level of 1619. Only the best of the best boxers can beat him.
Tennis = 2006 (PRO)
Baseball = 1998 (PRO)
Bowling = 963
Golf = 371
Boxing = 1619 (PRO)

Community content is available under
CC-BY-SA
unless otherwise noted.