He is a Japanese
CPU Mii
.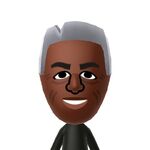 Wii Sports
In Boxing his level is 1,746,002. In Baseball he is better than Sakura and his level is 1300-1306. In Tennis he is unknown.
Wii Sports Resort
In Swordplay Speed Slice he needs 0.1 second to slice an object. His level is around 9000. In Table Tennis he is mediocre and is at level 777.3 (He has a Point skill). In Basketball he plays with Radai-beng and Zang-hou. Before throwing the ball you will see that a wall will go up in front of the basket and you can't throw anymore in the basket. His skill is 64329-64331.
Community content is available under
CC-BY-SA
unless otherwise noted.