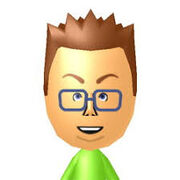 Beef Nugget
is a CPU Mii.
Wii Sports
In Tennis he is a Super Star Pro with a level of 3125. In Baseball his level is 3350. In Boxing his level is 4250.
Wii Sports Resort
In Swordplay, he is good with a skill of 10033. In Table Tennis, Beef Nugget is also good, with a skill of 9328. In Basketball, his skill is 11968 and his teammates are Wario and Kaytie. He is good at Cycling, coming 22nd out of 98.
Trivia
He looks like Oscar because it has been said that Oscar looks like a beef nugget.
Community content is available under
CC-BY-SA
unless otherwise noted.