Beginner Miis are the easiest CPUs in Wii Party and Wii Party U.
The other CPU Skills are Standard, Advanced, Expert, Master, and Advanced Master.
List
Wii Party
Abby, Alex, Andy, Areeg, Arwa, Chika, Colton, Danger Mouse, Davi, Ethar, Faten, Gwen, Haru, Hero, James, Jessie, Julie, Lamar, Marie, Mia, Miguel, Mike, Miyu, Moustafa, Nelly, Nicky, Patrick, Ralph, Raphael, Rasta, Sabah, Saburo, Sarah, Shohei, Snyder, Sofia, Tatsuaki, Tommy
Wii Party U
Adrien, Alphonse, Anna, Bernardo, Bruce, Chris, Cole Bazaliy, David, Donna, Elena, Enrique, Gerald, Haruka, Hee-joon, Ivo, Ji-hoon, Jorge, Kentaro, Mitsu, Pian-Pian, Pit, Rui, Usher, Xander, Xiaojian, Xue-Ren, Yunyun, Nana, Chiyo
Switch Party
Newer Wii Party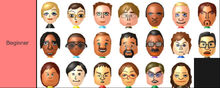 First Row: Alisha, Asami, Barbara, Chris, Eduardo, Fritz, Gabriele
Second Row: George, Gwen, Marco, Kentaro, Hiroshi, Pierre, Shouta
Third Row: Steph, Takumi, Shinta, Yoshi, Vincenzo, Tomoko
Mario Party Wii
Baby Luigi, Toad,
Community content is available under
CC-BY-SA
unless otherwise noted.