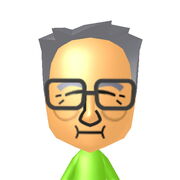 Borris is an elderly looking mii who appears in Wii Sports, Wii Sports Resort, and Wii Party. His favorite color is light green.
Wii Sports
Borris appears in Boxing, Baseball, and Tennis. His level in Baseball is 367. His level in Boxing is 45. His level in Tennis is 670.
Wii Sports Resort
Borris appears in Swordplay and Table Tennis. In both Swordplay games he is level 658. In Showdown, he appears in level 1, 3, 4, 8, 10, 2R, 5R, and 10R. In Table Tennis, he is level 1008. In Basketball, he is level 108 and plays with Eira and Luuk.
Wii Party
He is a Beginner CPU.
Trivia
He is shown to be left handed.
In Super Smash Brothers Ultimate, he can be seen in the background of the Wuhu Island Stage.
Gallery
Community content is available under
CC-BY-SA
unless otherwise noted.