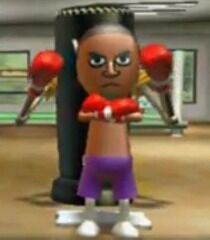 Not to be confused with Dave, Dave Ramsey, Davi, or David.
This Mii is canon. That means this Mii actually exists in the Wii Sports/Wii Sports Resort/Wii Sports Club/Wii Fit/Wii Party/Wii Music games. However some of the information is fanon.
Boxer Dave is a Mii from Wii Fit, New Wii Sports, and New Wii Sports Resort.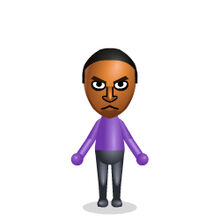 Wii Fit
He appears in Wii Fit's Rhythm Boxing as your trainer.
New Wii Sports
Nintendo decided to bring back Boxer Dave as an opponent in New Wii Sports. In Tennis, his level is 2700 and doubles with Enrique or Cathy. In Baseball his level is 2600-2818. In Boxing, he is a champion, with a level of 99,999,954-100,000,123!
New Wii Sports Resort
In Swordplay his level is 11893. In Table Tennis his level is 2878. In Basketball his level is 10003.
Trivia