Not to be confused with Carl.
Carl Wheezer is a CPU Mii.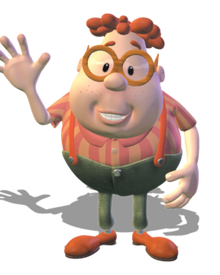 Wii Sports
In Tennis, Carl Wheezer's level is 8100 and doubles with Sota 2 or Arthur. In Baseball, his level is 103017 and has a team of Meggy, Michael Tutori, and others. He appears on the teams of Greg Heffley, Northwest, Jocelynn, Bathaniel Nandy, Jack, Ariella, Jon, and Christine. His level in Boxing is 13384-13491.
Wii Sports Resort
In Swordplay his level is 11473. In Table Tennis his level is 2008. In Basketball, his level is 8593 and plays with someone and Jimmy Neutron.
Community content is available under
CC-BY-SA
unless otherwise noted.