Chicken is a CPU Mii. He looks like a chicken.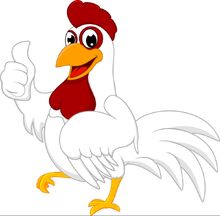 Wii Sports
Chicken's level in Tennis is -502 and plays with Ika. His level in Baseball is -47-7 and has a team of himself, Kenny G, Miss, Adam, Fatso, Elisa, Emma, Luca, and Akira. He appears on the teams of Mug Wump, Ika, Vince, Huck Finn, Grasshoper, Misami, and Malte. His level in Boxing is -23.
Wii Sports Resort
His level in Swordplay Duel and Speed Slice is -250. His level in Basketball is 56 and plays with Ika and Yaut. His level in Table Tennis is -283.
Trivia
Interestingly, he is not the only CPU Mii to look like a chicken. Cheap Cheap also looks like a chicken.
Gallery
Community content is available under
CC-BY-SA
unless otherwise noted.