Expert Miis are harder than the 3 lower difficulty levels (Beginner, Standard and Advanced) and easier than the highest two difficulty levels (Master and Advanced Master). They are unlocked after winning a TV Party game against the Advanced Miis.
List
Wii Party
Billy, Bob the Tomato from Veggietales, Carlos, David, Donkey Kong, Eduardo, Eva, Gabi, Gabriel, Greg, Hayley, Jake, Josh Peck, Julinho, Keiko, Kentaro, Lammy, Margarida, Martin, Midori, Midoriyu, Nayr, PaRappa, Rachel, Rainer, Rin, Sandra, Shinnosuke, Shinta, Silke, Susana, Theo, Waylon.
Wii Party U
Akira, André, Chris McLean, Claudia, Cup, Dunbar, Eduardo, Giulia, Hyun-woo, Jesús, John Lennon, Leonel, Léonie, Marie, Marit, Matt, Mizuho, Mónica, Odin, Paula, Pavel, Shichiro, Simon, Skip, Sophia, Steven, Xixi, Zi-Kai
Newer Wii Party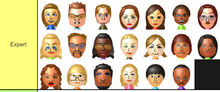 Front Row: Abby, Cole, Abe, Elisa, Fumiko, Hayley, Helen.
Second Row: Holly, Jake, Jackie, Jessie, Lucía, Mike, Maria.
Third Row: Naomi, Nelly, Patrick, Rachel, Ren, Theo.
Switch Party
Alfred, Carol, Sara, Daniel, Diana, Jacky, Jeanna, Jeremias, Mariana, Samantha, Rae, Seo-yeon, Xie, Zoe, Duncan, Bridgette, Tiffany, Kylie, Mitch, AJ, Luke, John, Urvana, Meggie, Megan, Layla,
Community content is available under
CC-BY-SA
unless otherwise noted.