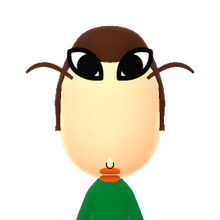 Grasshoper is a CPU Mii. Pronounced "grass-hope-er".
Wii Sports
In Tennis, Grasshoper's level is 35 and doubles with Abby, Misami, or Wario. In Baseball, his level is -106--21 and has a team of himself, Misami, Malte, Chicken, Kenny G, Miss, Adam, Fatso, and Elisa. He appears on Huck Finn's, Vince's, Ika's, and Mug Wump's teams as a teammate. You only face against him if you lose four or more consecutive games and your level is below -25. In Boxing his level is 601-728.
Wii Sports Resort
In Swordplay, Grasshoper's level is 2413. In Basketball, his level is 9428 and plays with Kienan and someone. In Table Tennis his level is 11368.
Trivia
His Japanese name is Gurasuhoppā (グラスホッパー).
He was based off of Grasshoper from Poofesure's YouTube channel.
He is one of five CPU Miis to come from Poofesure's channel, the others being beef boss, Kienan, Dudy dude, and fishsticks.
You can see a recreation of him using the Mii Maker here.
Gallery
Community content is available under
CC-BY-SA
unless otherwise noted.