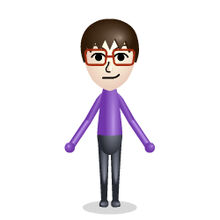 Maxi20 is a CPU Mii.
Wii Sports
In Tennis his level is -23 and plays with Wogel30 or Zubi10. In Baseball his level is -20. In Boxing, his level is -405.
Wii Sports Resort
In Swordplay, his level is -225. He is the boss of Level -3 in Showdown. In Basketball level is -12 and has Wogel30 and Zubi10 by his side. His level in Table Tennis is -1. In Cycling he is pretty bad, coming 82nd out of 98.
Trivia
You can earn his badge for making 10 edits on "CPU Mii" articles.
Community content is available under
CC-BY-SA
unless otherwise noted.