Moustafa is a Mii from Wii Sports, Wii Sports Resort, and Wii Party. He is currently part of a series of Arabian Miis.
Wii Sports
In Tennis he is a Pro with a skill level of 1565. He plays with his wife Faten (the smash parents). In Baseball he is a Pro. Moustafa's team consists of Faten, Sabah, Mohamed, Ahmed, Lamar, Areeg, Arwa, and Ethar. His teammates are his family. In Bowling he is a Pro with a skill of 1019. In Golf he is not a Pro, but he's great with a skill of 957. In Boxing he is pro with a skill of 1458.
Wii Sports Resort
coming soon
Wii Party
In Wii Party, Moustafa is a Beginner Mii.
Wii Sports Club
coming soon
Wii party U
coming soon
Trivia
His Arabian name is مصطفى
He is Egyptian
He has the lowest Overall Skill Level of the Arabian Miis.
Gallery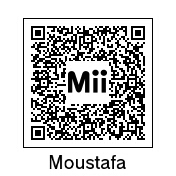 Community content is available under
CC-BY-SA
unless otherwise noted.