Welcome to My Miis Wiki

Always been a fan of Wii games and liked Miis? Then this is the right place for you!
At My Miis Wiki, you can create your own Miis!
Do you think you are a better Mii creator than Nintendo? Show us!
Tell something about them, add a photo, and choose in which games you want them to appear.
Feel free to also add pages about unlockable items, minigames or any made-up things about Wii, Wii U, or other consoles!
We also have a Discord server!

Please read the Rules before editing.
Contribute
If you want to create a new Mii page, click on "Create New Page" on the upper-right hand corner!
Not sure where to start? Check out our Available Names!
Be sure to check out our beautiful Wii Sports and Wii Sports Resort mods!
Best Mii
of the Year

Guru Ant - Best skill level: Infinity+

Worst Mii
of the Year

Cool Cat - Worst skill level: Negative Infinity
Best Mii
Ever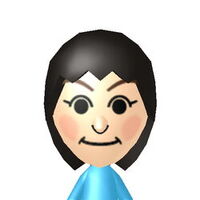 Rin - Best skill level: 1470