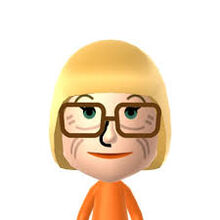 Not to be confused with Nelly.
Nellie is a CPU Mii.
Wii Sports
In Tennis her level is 1004, just barely outside the Pro mark. She doubles with Noval, Anna, or Ai. In Baseball her level is 1255-1448 and her team is Juhon, Sakura, Nick, Miyu, David, Maria, Helen, and Steve. She appears on the teams of Mario, Cathy, Nic, Albert, Nate, Akira 2, Christina, and Zelda. In Boxing her level is 4088.
Wii Sports Resort
In Swordplay Duel and Speed Slice her level is 12984 and is the High Skill Mii Vice Champion. In Showdown, she is the boss of Level 24. In Basketball her level is 12587 and plays with Misaki 2 and Misy. In Table Tennis her level is 12968.
Wii Party
In Wii Party, Nellie is an Advanced Master CPU.
Trivia
She looks like Nelly.
She is better than Nelly in every sport she plays.
Community content is available under
CC-BY-SA
unless otherwise noted.