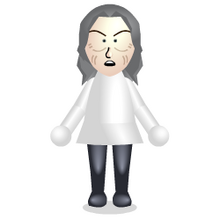 Not to be confused with Olga (Wii Sports Club).
Olga is a CPU Mii.
Wii Sports
Olga's level in Tennis is 4 and plays with Shouta. In Baseball her level is -124--36 and her team is herself, Misami, Malte, Chicken, Kenny G, Miss, Adam, and Fatso. In Boxing, her level is 52.
Wii Sports Resort
Her level in Swordplay 100. In Basketball her level is 2 and plays with Miguel and Geoos. In Table Tennis her level is 5.
Bio
She has an younger brother, Maxmillian, and a younger sister, Mackenzie. She is one of the few Russians in Wii Party U.
Community content is available under
CC-BY-SA
unless otherwise noted.