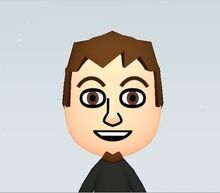 Schatzo.3D is the CPU Mii from Wii Sports Club and Wii Party U.
In Tennis, his Grade is ★20. He paired together with Harper. In Baseball, his Grade is ★20. His teams consists of Xavier, Simon, Karina, Eoin, Emily, Hideko, Tom, and Samr. In Boxing, his Grade is ★2020.
Wii Party U
In Wii Party U, Schatzo.3D is an Advanced Master Mii.
Trivia
He is the 2nd most powerful CPU Mii, behind Rebecca.
His real name is David.
You can unlock the ruby gloves when you defeat Schatzo.3D.
Community content is available under
CC-BY-SA
unless otherwise noted.