Spoxi is a female Mii from Wii Sports and Wii Sports Resort.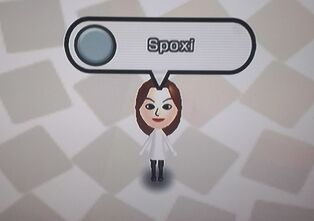 Wii Sports
In Baseball, Spoxi's level is 450.
In Boxing, her level is around the 500 mark.
In Tennis, she is seldom seen. Her skill level is around the 100 mark.
Wii Sports Resort
In Basketball, she is good. Her level is 1011 (PRO).
In Swordplay, Spoxi is also a Pro at level 1022.
Her skill is 1033 in Table Tennis.
Info
Her best friend is Zubi10.
Spoxi's favorite color is white.
Her name is prounouced as "Spaxi". 
Community content is available under
CC-BY-SA
unless otherwise noted.