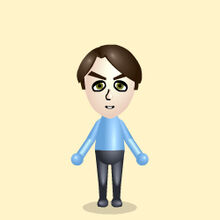 Not to be confused with Steve or Steve (Minecraft).
Steve is a CPU Mii.
Wii Sports
In Tennis he is sometimes Pro at level 990-1000 In Bowling his level is 17294. In Golf his level is 116, and it is the only sport he is not a Pro in. In Boxing he is a PRO at level 4719.
Wii Sports Resort
His level is 1481 in Swordplay. He is the boss of level 3 in Showdown. His level in Basketball is 92792. In Table Tennis his level is 1 million and is close to Motak. In Cycling it's hard to pass him, he is the champion with a skill level of 1 Quindezilliquingentillinillimillion.
Wii Party
In Wii Party he is an Advanced Master CPU.
Trivia
Along with Motak, Steve has high skill levels
Steve is a Pro at all sports, except Golf and sometimes Tennis
Community content is available under
CC-BY-SA
unless otherwise noted.