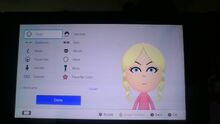 Wii Sports
Susan is one of the best miis
In Tennis, Susan is at level 10,029
In Baseball, Susan is at level 10,029, again
In Boxing, Susan is at level 9,840
Wii Sports Resort
In Swordplay, Susan is at level 78,920,
In Basketball Susan is at level 5,970
In Table Tennis, Susan is at level 100,456
Wii Party
In Wii Party Susan is a Master Mii
Trivia
Susan is high in Table Tennis.
Susan is 21st in the Best Miis.
Susan is the 1st Mii made by ILoveBubble28392.
Community content is available under
CC-BY-SA
unless otherwise noted.