Tixata
is a Mii from Wii Sports, Wii Sports Resort and
Wii Sports Club
. She looks exactly like Barbara from Wii Sports Club.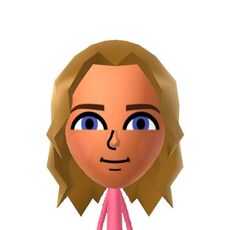 Wii Sports
In Tennis she has 1 skill point more than Elisa. Her level is 2001. In Baseball she is good and plays with Kaxi, Unacto, Merome, Yaut, Shinta 2, Vaxumium and Lexi. Tixata's level is 400-403. In Boxing her level is 9148 and is a high Pro.
Wii Sports Resort
In Swordplay she is not good. Her skill is only 333. In Table Tennis her level is unknown. In Basketball, Tixata is a Superstar and plays with Obeni and Donald. Her level is around 2263.
In Tennis her Grade is ★15 because she is so thin like a stick. She can't be seen in Baseball. In Boxing she is decent. Her Grade is 5.
Community content is available under
CC-BY-SA
unless otherwise noted.