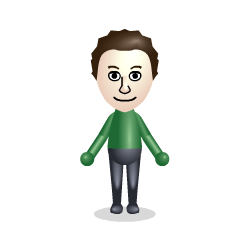 True MU is a CPU Mii. His best friend is False MU.
Wii Sports
Edit
In Tennis his level is 350. In Baseball his level is 5875. His team is himself, Deadlox, Ay, Shunta, Skylox, Merome, Sakura, Steve, and Noval. In Boxing, his level is 456.
Wii Sports Resort
Edit
In Swordplay, his level is 1212. In Basketball his level is 1246 and has David and Midori by his side. His level in Table Tennis is 3293.
False MU - The opposite Mii of True MU (True = happy, green)