Fav Mii (Wii)
Female: Gwen

Honorable Mentions: Alisha, Helen, Ashley

Male: Rainer

Honorable Mentions: Gabriele, Hiromasa, Miguel
Least Fav Mii (Wii)
Female: Abby

Honorable Mentions: Maria, Elisa, Sakura

Male: Takumi

Honorable Mentions: Matt, Tommy, Steve
Fav Mii (Wii U)
Female: Mitsu

Honorable Mentions: Juliette, Alice, Jin-ah

Male: Mark

Honorable Mentions: Rui-Lin, Steven, Bo-Jia
Least Fav Mii (Wii U)
Female: Maria

Honorable Mentions: Barbara, Shu-Hui, Xiuping

Male: Joost

Honorable Mentions: Guillermo, Dunbar, Jeff
Worst Mii of ALL TIME!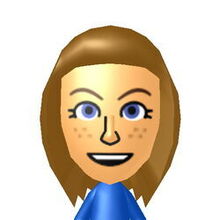 Abby
Why?
Overrated
People say she's cute, but to me she is ugly
Creepy glare
Annoying in Basketball and Swordplay
Annoying in the outfield in Baseball
Dumb nose. It only works for some females, and she isn't one of 'em
Ruined multiple Solo Mode games for me
Got too lucky in Board Game Island multiple times
And so I say... Burn in hell, Abby. Jessie and Miyu are better.
Fav Mii I made
Least Fav Mii I made
None. Why the hell would I hate something that I created and keep it living?
Fav Mii on this Wiki
Mandy (YA79): I just think she looks pretty.
Least Fav Mii on this Wiki
Kate (IAmAwesome2): I don't like how overpowered and bland she is.
Community content is available under
CC-BY-SA
unless otherwise noted.