Vaxumium
is a
CPU Mii
from Wii Sports, Wii Resorts Resort and
Wii Sports Club
.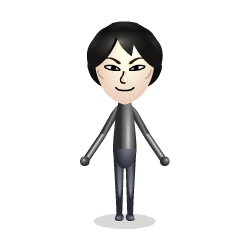 Wii Sports
In Tennis his level is around 450. In Baseball his skill is 1642 and plays with Noval, Sakura, Plexo, Tixata, Helen, Kaxi and Cola. In Boxing he is the first beginner. His level is only 30-70.
Wii Sports Resort
His level is Table Tennis is 2758. In Basketball his level is 2008 and is the first player you face against in Superstar Class. He plays with Brooke and Callie. In Swordplay his level is 2997 and is the last player you face in Superstar Class.
In
Boxing
his Grade is ★9. He can't be seen in
Tennis
. In
Baseball
he good and plays only with
&
. He has only one player!
Community content is available under
CC-BY-SA
unless otherwise noted.